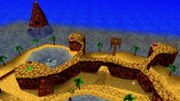 Treasure Trove Cove is the second world found in Banjo-Kazooie and is revealed to be a large sandy island. It features a lighthouse on top of a mountain in this area and a shipwreck. The boss in this world is Nipper.
Items
Blue: Underneath the pier at the start of the level which is guarded by Snacker.
Green: On the mast of the Salty Hippo.
Yellow: On a palm tree near the lighthouse.
Pink: On a Shock Spring Pad column.
Orange: On a rocky ledge at the Shrapnel pools.
Given to Banjo after winning the Black Snippet's game.
Inside Nipper's shell.
On the top of the lighthouse.
Inside of Little Lockup
At the bottom of a pool which is guarded by Shrapnel.
In a Lockup in the central mountain.
Obtaining it from Captain Blubber when finding his treasure.
Found in an alcove requiring Shock Spring jumps.
In the end of a long assault.
After collecting all five Jinjos.
Enemies
Ad blocker interference detected!
Wikia is a free-to-use site that makes money from advertising. We have a modified experience for viewers using ad blockers

Wikia is not accessible if you've made further modifications. Remove the custom ad blocker rule(s) and the page will load as expected.