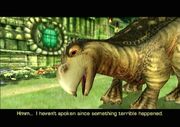 The Quiet ThornTail is a minor but important character in Star Fox Adventures. Even with the translator, the dinosaur's speech can't be made out. However, as the game progresses, he warms up to Fox and informs him about the situation his friends are in, as he is the GateKeeper of Dragon Rock and must save his friends who are imprisoned there.
Ad blocker interference detected!
Wikia is a free-to-use site that makes money from advertising. We have a modified experience for viewers using ad blockers

Wikia is not accessible if you've made further modifications. Remove the custom ad blocker rule(s) and the page will load as expected.