Puftup are Puffer Fish enemies that appear in the Donkey Kong series.
History
Donkey Kong Country (beta)
Puftups were first seen in the beta version of Donkey Kong Country, but they were scrapped out of the game possibly because chronologically, the games should get harder. They appeared to have had blue tails in the beta.
Donkey Kong Country 2: Diddy's Kong Quest/Land 2
Puftups appear as commonly found underwater enemies in Donkey Kong Country 2: Diddy's Kong Quest. Their spiky bodies protect themselves from Diddy and Dixie whom cannot defeat Puftups by themselves and rather must use Enguarde to defeat them. Puftups also puff up big, but don't explode while others do and their spikes flying in many directions. Some are stationary, but some aren't
Puftups reappear in Donkey Kong Land 2 and act the same, but cannot puff up and explode, due to system limitations.
Donkey Kong 64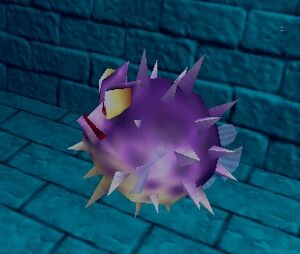 Puftups reappear in Donkey Kong 64 acting the same as they did in Donkey Kong Country 2: Diddy's Kong Quest. There is also have a giant boss called Puftoss.
Banjo-Tooie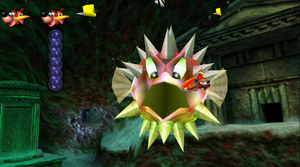 The Puftups were recycled as Swellbellies for the game "Banjo-Tooie" that's entirely outside of the Donkey Kong universe. Despite the red coloring, the puftups were refurbished from the previous game "Donkey Kong 64", but with a bit of red coloring on the spots of it's body. They appear in the depths of Jolly Roger's Lagoon like Atlantis, Smuggler's Cavern, and Seabottom. They are aptly to explode if a Talon Torpedo is used or shooting Grenade Eggs at them.
Ad blocker interference detected!
Wikia is a free-to-use site that makes money from advertising. We have a modified experience for viewers using ad blockers

Wikia is not accessible if you've made further modifications. Remove the custom ad blocker rule(s) and the page will load as expected.