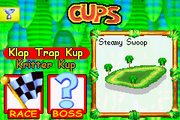 The Klaptrap Kup is the very first cup found in the 2003 build of the scrapped game Diddy Kong Pilot. It has four courses, just like all the other cups do. It can only be accessed by Team Kong and Team Cranky. Its courses are Steamy Swoop, Plain Pursuit, Chilly Length and Magma Spurt.
Ad blocker interference detected!
Wikia is a free-to-use site that makes money from advertising. We have a modified experience for viewers using ad blockers

Wikia is not accessible if you've made further modifications. Remove the custom ad blocker rule(s) and the page will load as expected.