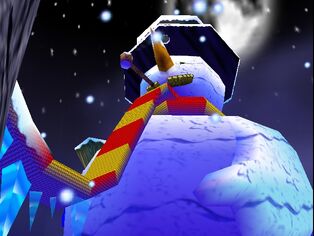 The Snowman from
Freezeezy Peak
is a background character in
Banjo-Kazooie
. He considered the best background character in the series, having appeared in photos in Boggy's Igloo, and also being half melted in
Banjo-Kazooie: Nuts & Bolts
. In the first game, the giant snowman gains three
Jiggies
in which two are hidden. One is visible in the pipe and if you step in, you get it. If you hit the giant's buttons, one Jiggy will appear below him and if you hit all the
Sir Slushes
, another will appear on top of the giant's hat where some
Chinkers
are. On the giant's carrot nose is a blue present that's shaped like a trapezoid prism and the easy way to get it is to jump to his mouth on his left.
Ad blocker interference detected!
Wikia is a free-to-use site that makes money from advertising. We have a modified experience for viewers using ad blockers

Wikia is not accessible if you've made further modifications. Remove the custom ad blocker rule(s) and the page will load as expected.