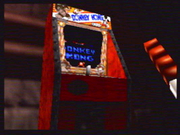 Frantic Factory is the third level in Donkey Kong 64 for the Nintendo 64. This level contains an arcade console (that can only be activated by Donkey Kong) with the original Donkey Kong game. The player must beat the game twice to receive the Rareware Coin.
Information
Great gizmos and gadgets galore! Chunky Kong has become captive in this giant machine plant! Locate and find Chunky, while avoiding the dangerous machinery part and pieces and find your way to the crazy Jack-in-the-box boss, Mad Jack.
Enemies
Mad Jack (Main Boss)
Robo Kritter
Toy Monster (Mid Boss)
Mr. Domino
Mr. Dice
Gallery
Ad blocker interference detected!
Wikia is a free-to-use site that makes money from advertising. We have a modified experience for viewers using ad blockers

Wikia is not accessible if you've made further modifications. Remove the custom ad blocker rule(s) and the page will load as expected.