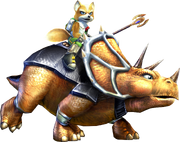 The EarthWalker Tribe are a peace-loving race of dinosaurs from Star Fox Adventures. They consist of Triceratops, and Tricky is among their ranks as the prince of their tribe.
The first time an EarthWalker is seen, it is a Krazoa Palace guard that has been injured by the SharpClaw.
Ad blocker interference detected!
Wikia is a free-to-use site that makes money from advertising. We have a modified experience for viewers using ad blockers

Wikia is not accessible if you've made further modifications. Remove the custom ad blocker rule(s) and the page will load as expected.