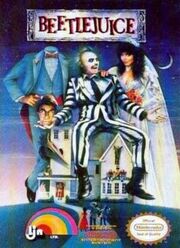 Beetlejuice
is the title of a video game created by
Rare
and published by LJN for the
Nintendo Entertainment System
. The game is loosely based on the film and animated series of the same name.
Gameplay
In the game you control Beetlejuice through various side-scrolling and overhead view levels in an effort to scare the yuppie Deetz family and friends that have taken over the house. You stomp on cockroaches in order to gain points that you used to buy various scare tactics that you used to defeat various enemies and bosses.
Ad blocker interference detected!
Wikia is a free-to-use site that makes money from advertising. We have a modified experience for viewers using ad blockers

Wikia is not accessible if you've made further modifications. Remove the custom ad blocker rule(s) and the page will load as expected.